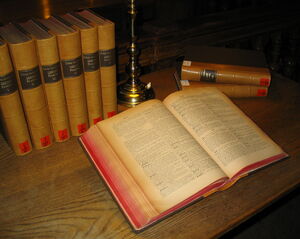 One of the most important, yet most difficult (and sometimes even boring!) language learning tasks is learning new words. More often than not, second language learners in general and English learners in particular find themselves in a situation where they are to memorize a long list of words and their meanings. Memorizing these word lists can be very painful at times, but as a language learner, there is no other choice.
So how can we ease the task? Each student might have come up with their individual method of attacking the problem. What technique have you found useful? Using dictionaries? Encyclopedias? Different word lists? Or do you have special tricks to help you remember the words for a longer time? Join us here and share your learning tips with the world!
Dictionaries and EncyclopediasEdit
Online DictionariesEdit
The first thing that comes to the mind when encountering a new word is using a dictionary. Here are some great online dictionaries.
PC DictionariesEdit
These are 3 of the greatest dictionaries that can be installed on a pc and used easily:
1.Longman Dictionary of Contemporary EnglishEdit
This dictionary is the easiest dictionary to use i have ever seen; the way it defines each word makes it valuable to begginers; it also has great exercises. The following picture will describe it perfectly so look carefully.
2.Oxford Advanced Learner's DictionaryEdit
This one defines words in a brief way and has some additional features that Longman doesn't so its good to use this one too. Here are some photos.
3.Merriam-Webster's DictionaryEdit
This one is for really advanced users and even provides words that are no longer used. It's good to have this one beside the other two.
Online EncyclopediasEdit