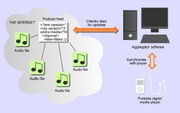 What is Podcast ?
One of the most interesting materials which helps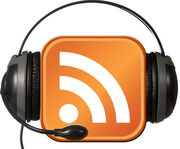 langauge learners improve their speaking and listening skills is podcast .
"A podcast is a series of digital media files (either audio or video) that are released episodically and often downloaded through web syndication.The term "podcasting" was first mentioned by Ben Hammersley in The Guardian newspaper in a February 2004 article, along with other proposed names for the new medium It is a portmanteau of the words pod— an acronym for Playable On Demand—and broadcasting"
. Lots of websites, online medium, News Agencies and even ordinary people create podcasts to send their voices to different people .
Why Podcast in ESL ?
Probably, as soon as you got the gist of what Podcast means this question has crossed your mind that what does Podcasts have to do with our Esl learning Wiki. Let me explain why I personally found Podcasting interesting. Have you ever thought about listening to American or British radios or watching programs you can't get in your country or hearing the voice of famous journalists, actors, reporters or even presidents? Well, with podcasts you can actually have an American radio or authentic voices of native speakers on your cell phone, iPod or whatever portable device you own and listen to them at any time for free. As you know , we cannot access English Radios in Iran. Maybe there are few ones, but the advantage of podcasts is that they are files not streaming Radios or TV's , so you can replay them. For example, If you are interested in Brian Williams NBC Nightly News, you can simply go the NBC website and download the podcast every night and Listen to Brian and replay the file over and over.By the way , as I said Podcasts are not just audio files , but also Video files .
Can we have our own Podcast?
Of course.. We can create our own Podcast. Believe me, it's so fun and easy. We just need a computer and a good Microphone. We can make vocabulary podcasts, grammar podcasts, etc. We can do lots of fun things you have never imagined.

Sample Podcasts
I have uploaded some podcasts . Just click on the links and download them. These are just samples . You can go to their websites and download tons of Podcasts from there .
White house podcast : President Obama's Weekly Addres
http://www.mediafire.com/?6jd9cmdczo282di
Brian Williams NBC Nightly News
http://podcast.msnbc.com/audio/podcast/MSNBC-Nightly.xml
this one is the main website
CNN news update

http://www.mediafire.com/?k53y2d3fslbw81d
I will add more Podcasts later . You can also surf the net and find lots of them . Please don't hesitate to give me your ideas about how to make our own Podcast .
The underlined part in the first paragraph is from this page : http://en.wikipedia.org/wiki/Podcast
Pages in category "Podcast"
This category contains only the following page.
S