Sh.A's Leitner methodEdit
Beside what i have written in comments of this page about feeling words, i know of another method of memorizing which is known to almost anyone and that's using the leitner method. You can go online and learn about this method which has a psychological basis. This method has been used for almost 50 years in other countries such as U.S.A. I'm not going to explain the method; it's very scientific and you have to learn it yourself, all i can tell you that it works perfect. But one of the disadvantages of using this method is the time you have to spend on entering every word in your leitner box. A computer software has been published recently that will solve this problem. It'a name is " Payesh Leitner Software"; published by "Payesh" an Iranian group located in "Shahid Beheshti University". One of the greatest benefits of this software is word-banks that have been created by other people and can be used by everyone. For instance, Payesh group has put these banks in the software as default banks; 504 Absolutely Essential Words, Essential Words for the TOEFL, Webster Essential Vocabulary, 5000 Words, and alot more that can be downloaded. You can learn more and download the trial version at the software's official site: http://www.payesh.com .
free version download link: http://www.payesh.com/download/payeshleitnersetup.exe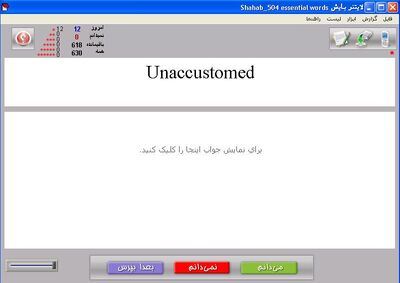 Sayedali's Movies MethodEdit
One of the best ways to build up vocabulary is through watching English movies. I happened to use this method a lot after I graduated from English institute in order to increase my knowledge of vocabulary. I strongly recommend this method for anyone of you who is in favor of learning new English words. This includes 5 steps (2 Optional). This is it:
Step 1: Watch the movie once and try to recognize and understand the words used in it. Do not use subtitles.
Step 2: Watch the movie for the second time. This time load the subtitle and check every single word while watching the movie. If you realized that a word shown in subtitle is not familiar to you pause the movie, write the unknown word and look up the meaning in a good dictionary such as Oxford and write it down on an A4 sheet. Keep on doing this procedure up to the end of the movie. Be careful to pay close attention to the scene because doing so cause your brain to save the image and the word simultaneously. It sounds like you are developing a picture dictionary in your mind. And that's The Secret.
(If you do not have the subtitle you may download it from the link below. It's free:
(Don't know how to load subtitle? Download the tutorial videovideo I've made.)
Step 3: After the movie is finished, review the new words.
Step 4 (Optional): Watch the movie for the 3rd time. This time while the movie is being played try to recall (spot) the words you've just learned. Doing so consolidates the word in your mind and rest assured that you'll never forget them.
Step 5(Optional but highly recommended): Pin or tape the sheets to the wall of your study. Review the words every now and then.
Leave comments Please.
Pages in category "How I learn my vocabulary"
This category contains only the following page.